Never Say Die: Jacinta Hampson's story.
An accident left 18-year-old Jacinta Hampson with catastrophic head injuries that doctors warned she would never survive.

But Jacinta fought back. After emerging from a coma and learning how to swallow, eat, walk and talk again, she began the journey to rebuild the rest of her life from the ground up.

Now 52 years old, Jacinta shares her story here.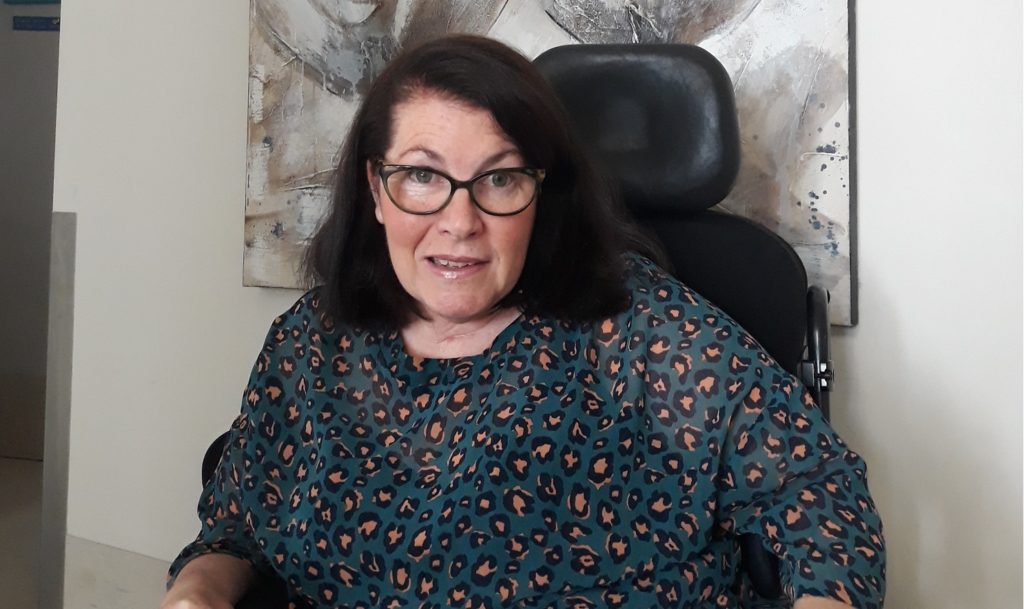 Posts in this blog have either been narrated or written by Uniting Participant Jacinta Hampson, with support from the Uniting team.

If you have feedback to share about this blog, get in touch.
---
Post 1 | Jacinta meets Joe.
Published 13 May 2021
"I've always liked Italian men."
Jacinta Hampson doesn't mince words as she's asked what attracted her to boyfriend, Joe. The two started out as housemates but after a few months of living together as friends, a romance blossomed.
With a cheeky glint in her eye and a wicked sense of humour, Jacinta is a woman who knows what she wants.
"I liked him straight away," the 52-year-old recalls.
"He's very manly, but he's also very sweet."
Almost on cue, Joe presents Jacinta with a flower he picked for her because he thought "the colour would suit her."

And he's right, the purple flower sets off Jacinta's green eyes perfectly.
In many ways, Jacinta and Joe are a typical couple. They've been seeing each other for about 6 months and enjoy sharing meals together and chatting about their day.
Jacinta visibly brightens as she talks about her relationship with Joe. She smiles as she explains the sweet things Joe does for her, whereas Joe is more reserved. He prefers to keep the details of their relationship private.
"I'd prefer not to talk about it," Joe explains.
Jacinta quickly responds: "What about what I want!"
Jacinta and Joe live with disabilities that affect their health and mobility, and they share their home with other people who also need 24/7 support. Jacinta enjoys her home life, but she also finds it challenging sometimes.
"Sometimes it's hard to accept this situation," she said.
An accident at 18 years old left Jacinta paralysed and with catastrophic head injuries. Jacinta survived against all odds and taught herself to do everything again, from the ground up. She's living a life that no one expected her to live, but it's a far cry from the life she started out with.
---